Tissue-type analysis included in Oncolines™ cancer cell line profiling
Oss, 12 February 2019 – The approval label of many drugs specifically states use in cancer of a certain tissue type, for instance, breast or lung. In any approach to precision medicine, cancer lineage should therefore be taken into account. NTRC's Oncolines™ cancer cell line profiling service1,2 now includes such tissue-type analysis, indicating whether drugs or drug candidates show preferential activity in a certain cancer tissue type. Annotation of disease indication conforms to the Cellosaurus database.3 The associated tissue types are hierarchically organized according to the Oncotree classification.4 Figure 1 shows an example in which Oncolines™ tissue-type analysis reveals that the CDK4/6 inhibitor ribociclib (Kisqali®) potently inhibits proliferation of cell lines of neuroblastoma origin. This finding supports ongoing clinical studies.5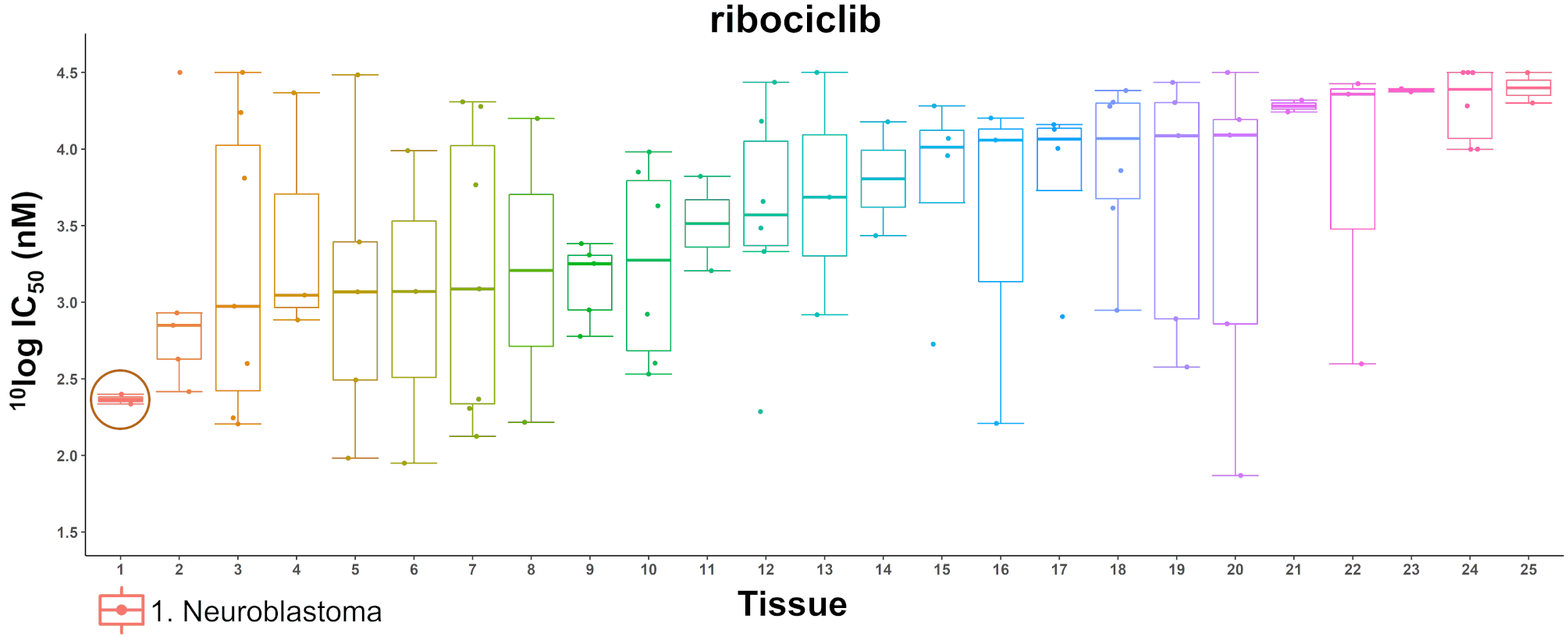 Figure 1: Tissue-based boxplot of the CDK4/6 inhibitor ribociclib. Ribociclib is in under investigation in clinical trials for neuroblastoma.
About Oncolines™
NTRC Oncolines™ is a screening service on a panel of 102 cancer cell lines, which enables drug sensitivity analyses, biomarker discovery and the mapping of drug candidates within the competitive field. The panel yields highly reproducible data and captures drug response through various metrics.1,2 Gene mutations, copy number variations and gene expression variations can be associated with drug response by bioinformatics. Validation of markers is part of our follow-up workflow. The tissue type boxplot is part of the standard analysis included in Oncolines™ profiling.
Literature references
1. Uitdehaag et al. (2016) Mol Cancer Ther 15, 3097-3109.
2. Uitdehaag et al. (2019) Mol Cancer Ther, 18, 470-481.
3. Bairoch A. (2018) The Cellosaurus, a cell line knowledge resource. J Biomol Tech 29, 25-38.
4. Memorial Sloan Kettering Cancer Center http://oncotree.mskcc.org/#/home
5. Geoerger et al. (2017) Clin Cancer Res 23, 2433-2441.
About NTRC
NTRC is a precision medicine company dedicated to the development of new anti-cancer drugs. NTRC facilitates the development of novel therapies by providing custom-based assays with primary patient material and high-throughput cancer cell line profiling services (Oncolines™, GeneNominator™, SynergyFinder™ and SynergyScreen™), as well as target residence time measurements for protein kinases (ResidenceTimer™) on a fee-for-service basis. Arginase Gold™ and NFK GreenScreen™ are assay read-outs for the cancer immunotherapy drug targets Arginase-1, and IDO1 and TDO respectively. Assay kits are supplied to clients globally. For more information please visit www.ntrc.nl or contact info@ntrc.nl