Phosphoproteome Analysis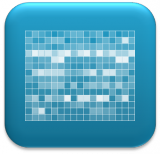 Are you looking for a phosphorylated protein biomarker? Do you want to investigate downstream signaling of kinases and phosphatases in cells? NTRC is the exclusive provider of this service in Europe and Israel, which is carried out by Carna Biosciences, Inc.
RPPA characteristics
Reverse phase protein array (RPPA) is a proteomics method
180 different phosphorylation sites are detected
Extensive coverage of phospho-targets in all major signal transduction pathways in cancer
Broad coverage of cancer, inflammatory and metabolic disease targets
Quantitative analysis of modulation of protein phosphorylation signals in cells in response to stimuli and/or compounds
Turn-around time: 4 weeks
In our approach for phosphoproteome analysis, total cellular proteins are spotted on a microarray and probed with 180 different phospho-specific antibodies directed against more than 100 therapeutically relevant proteins.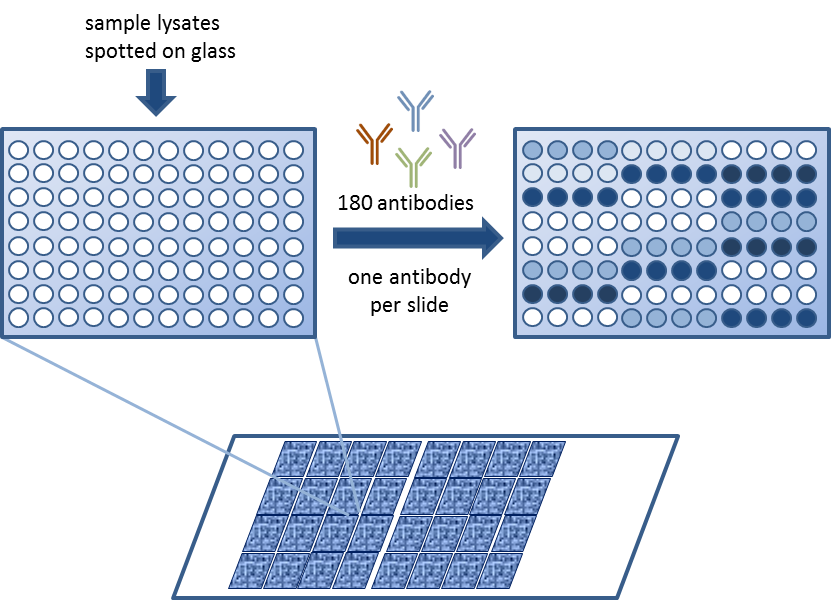 Principle of reverse phase protein array (RPPA).
Click here for full list of phosphorylation sites analyzed in RPPA
Advantages
No need to enrich phospho-proteins
Small sample volume
Large collection of validated antibodies
Suitable for rapid comparison between different conditions
Rapid turn-around
Approach
Cell lysates are spotted on a glass slide (array)
Phosphorylated sites on proteins in the lysate are detected by immune staining
Phosphorylated signal is quantified by analyzing a dilution series of the lysate
All phospho signals are normalized by using γ-tubilin as a control for sample loading
The spot intensities of all samples on the slide are used to prepare a calibration curve, which is used to determine relative concentrations of the different targets in different lysates
Report contains processed data with heat map
Raw data are send to customer as an Excel file
NTRC is the exclusive provider of this service in Europe and Israel, which is carried out by Carna Biosciences, Inc. Samples of cell lysates are prepared by the customer and shipped on dry ice to Carna in Japan. Upon ordering RPPA, the customer obtains a sample of lysis buffer and cell scrapers to prepare the lysates, according to the instructions provided by Carna. The Bradford reagents to measure protein concentration is also enclosed in the package.
Click here to read the instructions for preparation of cell lysate samples for RPPA
Alternatively, NTRC can prepare RPPA samples for Oncolines™ and SynergyFinder™ customers. RPPA is a complementary technique to study effect seen in Oncolines™ cancer cell line profiling, or SynergyFinder™ experiments at a molecular level.
In short, the work flow is as follows (for clients in Europe and Israel only):
Customer orders RPPA analysis study at NTRC via services@ntrc.nl by approaching our local sales representative (+31-412-700501)
Customer discusses plan with NTRC and requests for a quotation
After signature of quotation and work order, NTRC will send cell lysis buffer and cell scraper to prepare RPPA samples
Customer sends RPPA samples on dry ice to Carna in Japan
Carna performs RPPA analysis and writes report
Literature
Masuda, M et al. Alternative Mammalian Target of Rapamycin (mTOR) Signal Activation in Sorafenib-resistant Hepatocellular Carcinoma Cells Revealed by Array-based Pathway Profiling (2014) Mol. Cell. Proteomics; 13, 1429-1438.