Full Kinase Panel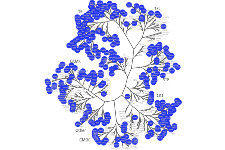 Through our partner Carna Biosciences we are offering the Full Kinase Panel. This panel is comprised of all the kinase assays available at Carna Biosciences, currently more than 300 assays. Clients can either choose to run the full panel or can 'cherry-pick' their most preferred kinases.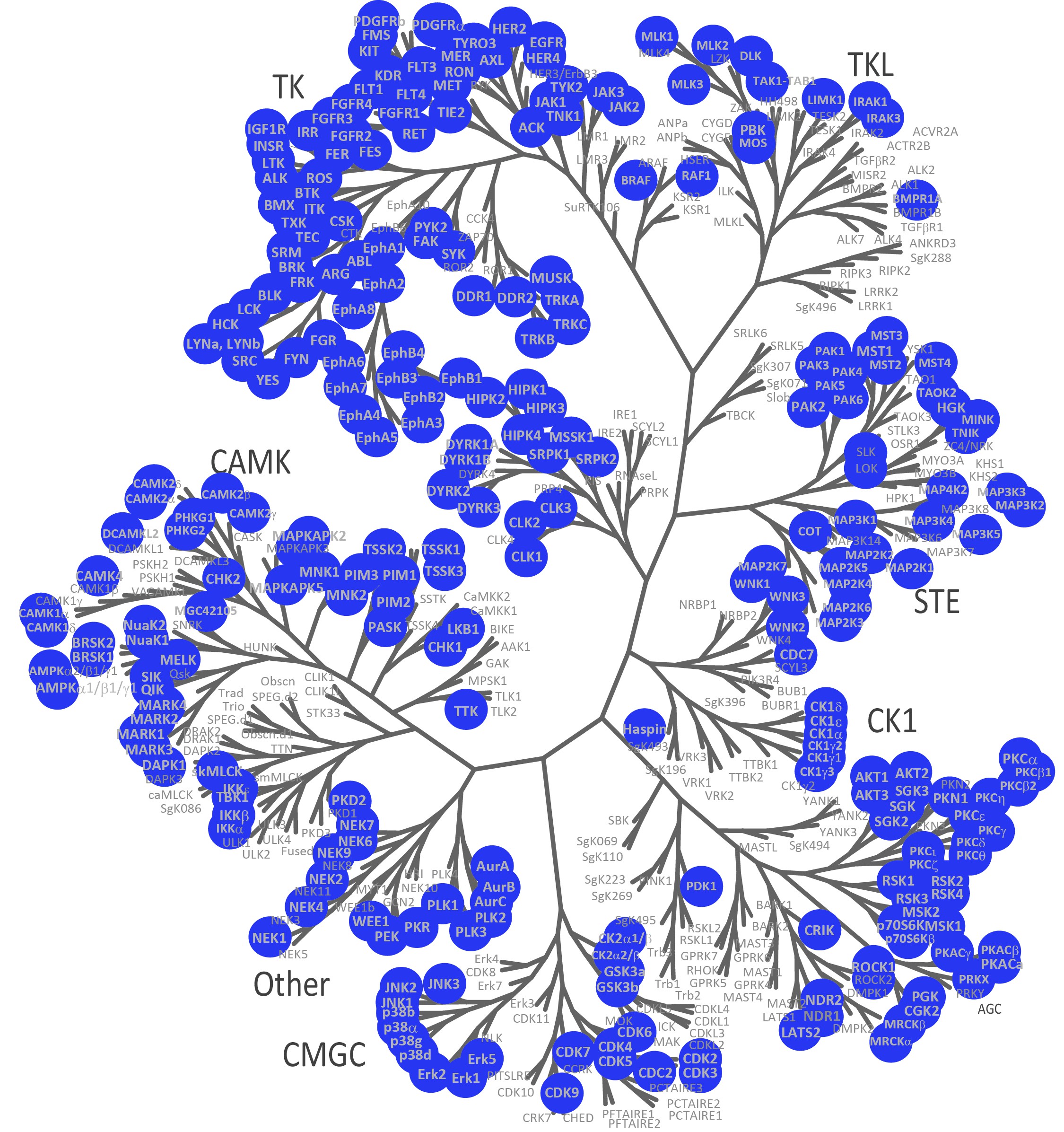 Kinases Available in the Full Kinase panel
The Full Kinase Panel -available at Carna- enables clients to extensively profile their compounds on almost the entire kinome. The full kinase panel is run with high accuracy and a rapid turn-around time of 4 weeks with intermediate reporting at 2 weeks.
Target Name

Group

Assay Type

Source

(Carna Cat No.)

ABL (ABL1)

TK

Mobility Shift, IMAPTM

08-001

ABL (ABL1) [E255K]

TK

Mobility Shift, IMAPTM

08-094

ABL (ABL1) [T315I]

TK

Mobility Shift, IMAPTM

08-093

ACK (TNK2)

TK

Mobility Shift, IMAPTM

08-196

AKT1

STK

Mobility Shift, IMAPTM

01-101

AKT2

STK

Mobility Shift, IMAPTM

01-102

AKT3

STK

Mobility Shift, IMAPTM

01-103

ALK

TK

Mobility Shift, IMAPTM

08-518

ALK[F1174L]

TK

Mobility Shift, IMAPTM

08-519

ALK[L1196M]

TK

Mobility Shift, IMAPTM

08-529

ALK[R1275Q]

TK

Mobility Shift, IMAPTM

08-520

AMPKα1/β1/γ1 (PRKAA1/B1/G1)

STK

Mobility Shift, IMAPTM

02-113

AMPKα2/β1/γ1 (PRKAA2/B1/G1)

STK

Mobility Shift, IMAPTM

02-114

ARG (ABL2)

TK

Mobility Shift, IMAPTM

08-102

AurA (AURKA)

STK

Mobility Shift, IMAPTM

05-101

AurA(AURKA)/TPX2

STK

Mobility Shift, IMAPTM

05-186

AurB (AURKB)/INCENP

STK

Mobility Shift, IMAPTM

05-102

AurC (AURKC)

STK

Mobility Shift, IMAPTM

05-103

AXL

TK

Mobility Shift, IMAPTM

08-107

BLK

TK

Mobility Shift, IMAPTM

08-164

BMPR1A

STK

ELISA

09-137

BMX

TK

Mobility Shift, IMAPTM

08-179

BRAF

STK

ELISA

09-122

BRAF

STK

Mobility Shift, IMAPTM

09-122

BRAF [V600E]

STK

ELISA

09-144

BRAF[V600E]

STK

Mobility Shift, IMAPTM

09-144

BRK (PTK6)

TK

Mobility Shift, IMAPTM

08-165

BRSK1

STK

Mobility Shift, IMAPTM

02-115

BRSK2

STK

Mobility Shift, IMAPTM

02-116

BTK

TK

Mobility Shift, IMAPTM

08-080

CaMK1α (CAMK1)

STK

Mobility Shift, IMAPTM

02-104

CaMK1δ (CAMK1D)

STK

Mobility Shift, IMAPTM

02-106

CaMK2α (CAMK2A)

STK

Mobility Shift, IMAPTM

02-109

CaMK2β (CAMK2B)

STK

Mobility Shift, IMAPTM

02-110

CaMK2γ (CAMK2G)

STK

Mobility Shift, IMAPTM

02-112

CaMK2δ (CAMK2D)

STK

Mobility Shift, IMAPTM

02-111

CaMK4

STK

Mobility Shift, IMAPTM

02-108

CDC2 /CycB1

STK

Mobility Shift, IMAPTM

04-102

CDC7/ASK

STK

Mobility Shift, IMAPTM

05-109

CDK2 /CycA2

STK

Mobility Shift, IMAPTM

04-103

CDK2 /CycE1

STK

Mobility Shift, IMAPTM

04-165

CDK3 /CycE1

STK

Mobility Shift, IMAPTM

04-104

CDK4 /CycD3

STK

Mobility Shift, IMAPTM

04-105

CDK5 /p25

STK

Mobility Shift, IMAPTM

04-106

CDK6 /CycD3

STK

Mobility Shift, IMAPTM

04-107

CDK7 /CycH/MAT1

STK

Mobility Shift, IMAPTM

04-108

CDK9 /CycT1

STK

Mobility Shift, IMAPTM

04-110

CGK2 (PRKG2)

STK

Mobility Shift, IMAPTM

01-143

CHK1 (CHEK1)

STK

Mobility Shift, IMAPTM

02-117

CHK2 (CHEK2)

STK

Mobility Shift, IMAPTM

02-162

CK1α (CSNK1A1)

STK

Mobility Shift, IMAPTM

03-101

CK1γ1 (CSNK1G1)

STK

Mobility Shift, IMAPTM

03-105

CK1γ2 (CSNK1G2)

STK

Mobility Shift, IMAPTM

03-106

CK1γ3 (CSNK1G3)

STK

Mobility Shift, IMAPTM

03-107

CK1δ (CSNK1D)

STK

Mobility Shift, IMAPTM

03-103

CK1ε (CSNK1E)

STK

Mobility Shift, IMAPTM

03-104

CK2α1/β (CSNK2A1/B)

STK

Mobility Shift, IMAPTM

05-184

CK2α2/β (CSNK2A2/B)

STK

Mobility Shift, IMAPTM

05-185

CLK1

STK

Mobility Shift, IMAPTM

04-126

CLK2

STK

Mobility Shift, IMAPTM

04-127

CLK3

STK

Mobility Shift, IMAPTM

04-128

COT (MAP3K8)

STK

Mobility Shift, IMAPTM

07-301

COT(MAP3K8)

STK

ELISA

07-301

CRIK (CIT)

STK

Mobility Shift, IMAPTM

01-104

CSK

TK

Mobility Shift, IMAPTM

08-111

DAPK1

STK

Mobility Shift, IMAPTM

02-134

DCAMKL2

STK

Mobility Shift, IMAPTM

02-140

DDR1

TK

Mobility Shift, IMAPTM

08-113

DDR2

TK

Mobility Shift, IMAPTM

08-114

DLK (MAP3K12)

STK

Mobility Shift, IMAPTM

09-111

DLK(MAP3K12)

STK

ELISA

09-111

DYRK1A

STK

Mobility Shift, IMAPTM

04-130

DYRK1B

STK

Mobility Shift, IMAPTM

04-131

DYRK2

STK

Mobility Shift, IMAPTM

04-132

DYRK3

STK

Mobility Shift, IMAPTM

04-133

EEF2K

STK

Mobility Shift, IMAPTM

10-113

EGFR

TK

Mobility Shift, IMAPTM

08-115

EGFR[d746-750/T790M]

TK

Mobility Shift, IMAPTM

08-528

EGFR[d746-750]

TK

Mobility Shift, IMAPTM

08-527

EGFR[L858R]

TK

Mobility Shift, IMAPTM

08-502

EGFR[L861Q]

TK

Mobility Shift, IMAPTM

08-513

EGFR[T790M/L858R]

TK

Mobility Shift, IMAPTM

08-510

EGFR[T790M]

TK

Mobility Shift, IMAPTM

08-194

EML4-ALK

TK

Mobility Shift, IMAPTM

08-516

EPHA1

TK

Mobility Shift, IMAPTM

08-119

EPHA2

TK

Mobility Shift, IMAPTM

08-121

EPHA3

TK

Mobility Shift, IMAPTM

08-122

EPHA4

TK

Mobility Shift, IMAPTM

08-123

EPHA5

TK

Mobility Shift, IMAPTM

08-124

EPHA6

TK

Mobility Shift, IMAPTM

08-125

EPHA7

TK

Mobility Shift, IMAPTM

08-126

EPHA8

TK

Mobility Shift, IMAPTM

08-127

EPHB1

TK

Mobility Shift, IMAPTM

08-128

EPHB2

TK

Mobility Shift, IMAPTM

08-129

EPHB3

TK

Mobility Shift, IMAPTM

08-130

EPHB4

TK

Mobility Shift, IMAPTM

08-131

Erk1 (MAPK3)

STK

Mobility Shift, IMAPTM

04-142

Erk2 (MAPK1)

STK

Mobility Shift, IMAPTM

04-143

Erk5 (MAPK7)

STK

Mobility Shift, IMAPTM

04-146

FAK (PTK2)

TK

Mobility Shift, IMAPTM

08-137

FER

TK

Mobility Shift, IMAPTM

08-139

FES

TK

Mobility Shift, IMAPTM

08-140

FGFR1

TK

Mobility Shift, IMAPTM

08-133

FGFR1[V561M]

TK

Mobility Shift, IMAPTM

08-536

FGFR2

TK

Mobility Shift, IMAPTM

08-134

FGFR3

TK

Mobility Shift, IMAPTM

08-135

FGFR3[K650E]

TK

Mobility Shift, IMAPTM

08-501

FGFR3[K650M]

TK

Mobility Shift, IMAPTM

08-199

FGFR4

TK

Mobility Shift, IMAPTM

08-136

FGFR4[N535K]

TK

Mobility Shift, IMAPTM

08-524

FGFR4[V550E]

TK

Mobility Shift, IMAPTM

08-525

FGFR4[V550L]

TK

Mobility Shift, IMAPTM

08-526

FGR

TK

Mobility Shift, IMAPTM

08-166

FLT1

TK

Mobility Shift, IMAPTM

08-189

FLT3

TK

Mobility Shift, IMAPTM

08-154

FLT4

TK

Mobility Shift, IMAPTM

08-190

FMS (CSF1R)

TK

Mobility Shift, IMAPTM

08-155

FRK

TK

Mobility Shift, IMAPTM

08-167

FYN

TK

Mobility Shift, IMAPTM

08-068

GSK3α (GSK3A)

STK

Mobility Shift, IMAPTM

04-140

GSK3β (GSK3B)

STK

Mobility Shift, IMAPTM

04-141

Haspin (GSG2)

STK

Mobility Shift, IMAPTM

05-111

HCK

TK

Mobility Shift, IMAPTM

08-169

HER2 (ERBB2)

TK

Mobility Shift, IMAPTM

08-016

HER4 (ERBB4)

TK

Mobility Shift, IMAPTM

08-118

HGK (MAP4K4)

STK

Mobility Shift, IMAPTM

07-137

HIPK1

STK

Mobility Shift, IMAPTM

04-135

HIPK2

STK

Mobility Shift, IMAPTM

04-136

HIPK3

STK

Mobility Shift, IMAPTM

04-137

HIPK4

STK

Mobility Shift, IMAPTM

04-138

IGF1R

TK

Mobility Shift, IMAPTM

08-141

IKKα (CHUK)

STK

Mobility Shift, IMAPTM

05-112

IKKβ (IKBKB)

STK

Mobility Shift, IMAPTM

05-084

IKKε (IKBKE)

STK

Mobility Shift, IMAPTM

05-114

INSR

TK

Mobility Shift, IMAPTM

08-142

IRAK1

STK

Mobility Shift, IMAPTM

09-101

IRAK4

STK

Mobility Shift, IMAPTM

09-145

IRR (INSRR)

TK

Mobility Shift, IMAPTM

08-143

ITK

TK

Mobility Shift, IMAPTM

08-181

JAK1

TK

Mobility Shift, IMAPTM

08-144

JAK2

TK

Mobility Shift, IMAPTM

08-045

JAK3

TK

Mobility Shift, IMAPTM

08-046

JNK1 (MAPK8)

STK

Mobility Shift, IMAPTM

04-163

JNK2 (MAPK9)

STK

Mobility Shift, IMAPTM

04-164

JNK3 (MAPK10)

STK

Mobility Shift, IMAPTM

04-150

KDR

TK

Mobility Shift, IMAPTM

08-191

KIT

TK

Mobility Shift, IMAPTM

08-156

KIT[D816V]

TK

Mobility Shift, IMAPTM

08-505

KIT[T670I]

TK

Mobility Shift, IMAPTM

08-195

KIT[V560G]

TK

Mobility Shift, IMAPTM

08-504

KIT[V654A]

TK

Mobility Shift, IMAPTM

08-511

LATS2

STK

Mobility Shift, IMAPTM

01-124

LCK

TK

Mobility Shift, IMAPTM

08-170

LIMK1

STK

ELISA

09-105

LKB1(STK11)/MO25α/STRADα

STK

ELISA

02-119

LOK (STK10)

STK

Mobility Shift, IMAPTM

07-315

LTK

TK

Mobility Shift, IMAPTM

08-106

LYNa

TK

Mobility Shift, IMAPTM

08-171

LYNb

TK

Mobility Shift, IMAPTM

08-172

MAP2K1

STK

ELISA

07-041

MAP2K1

STK

Mobility Shift, IMAPTM

07-141

MAP2K2

STK

ELISA

07-042

MAP2K2

STK

Mobility Shift, IMAPTM

07-142

MAP2K3

STK

ELISA

07-048

MAP2K3

STK

Mobility Shift, IMAPTM

07-143

MAP2K4

STK

ELISA

07-044

MAP2K4

STK

Mobility Shift, IMAPTM

07-144

MAP2K5

STK

ELISA

07-145

MAP2K5

STK

Mobility Shift, IMAPTM

07-145

MAP2K6

STK

ELISA

07-046

MAP2K6

STK

Mobility Shift, IMAPTM

07-146

MAP2K7

STK

ELISA

07-047

MAP2K7

STK

Mobility Shift, IMAPTM

07-148

MAP3K1

STK

ELISA

07-103

MAP3K1

STK

Mobility Shift, IMAPTM

07-103

MAP3K2

STK

ELISA

07-004

MAP3K2

STK

Mobility Shift, IMAPTM

07-104

MAP3K3

STK

ELISA

07-105

MAP3K3

STK

Mobility Shift, IMAPTM

07-105

MAP3K4

STK

ELISA

07-106

MAP3K4

STK

Mobility Shift, IMAPTM

07-106

MAP3K5

STK

ELISA

07-107

MAP3K5

STK

Mobility Shift, IMAPTM

07-107

MAP4K2

STK

Mobility Shift, IMAPTM

07-111

MAPKAPK2

STK

Mobility Shift, IMAPTM

02-142

MAPKAPK3

STK

Mobility Shift, IMAPTM

02-143

MAPKAPK5

STK

Mobility Shift, IMAPTM

02-144

MARK1

STK

Mobility Shift, IMAPTM

02-120

MARK2

STK

Mobility Shift, IMAPTM

02-121

MARK3

STK

Mobility Shift, IMAPTM

02-122

MARK4

STK

Mobility Shift, IMAPTM

02-123

MELK

STK

Mobility Shift, IMAPTM

02-124

MER (MERTK)

TK

Mobility Shift, IMAPTM

08-108

MET

TK

Mobility Shift, IMAPTM

08-151

MET[Y1235D]

TK

Mobility Shift, IMAPTM

08-198

MGC42105

STK

Mobility Shift, IMAPTM

02-125

MINK (MINK1)

STK

Mobility Shift, IMAPTM

07-139

MLK1 (MAP3K9)

STK

Mobility Shift, IMAPTM

09-115

MLK1(MAP3K9)

STK

ELISA

09-015

MLK2 (MAP3K10)

STK

Mobility Shift, IMAPTM

09-116

MLK2(MAP3K10)

STK

ELISA

09-116

MLK3 (MAP3K11)

STK

Mobility Shift, IMAPTM

09-017

MLK3(MAP3K11)

STK

ELISA

09-017

MNK1 (MKNK1)

STK

Mobility Shift, IMAPTM

02-145

MNK2 (MKNK2)

STK

Mobility Shift, IMAPTM

02-146

MOS

STK

ELISA

05-118

MOS

STK

Mobility Shift, IMAPTM

05-118

MRCKα (CDC42BPA)

STK

Mobility Shift, IMAPTM

01-107

MRCKβ (CDC42BPB)

STK

Mobility Shift, IMAPTM

01-108

MSK1 (RPS6KA5)

STK

Mobility Shift, IMAPTM

01-147

MSK2 (RPS6KA4)

STK

Mobility Shift, IMAPTM

01-148

MSSK1 (STK23)

STK

Mobility Shift, IMAPTM

04-159

MST1 (STK4)

STK

Mobility Shift, IMAPTM

07-116

MST2 (STK3)

STK

Mobility Shift, IMAPTM

07-117

MST3 (STK24)

STK

Mobility Shift, IMAPTM

07-118

MST4

STK

Mobility Shift, IMAPTM

07-119

MUSK

TK

Mobility Shift, IMAPTM

08-153

NDR1 (STK38)

STK

Mobility Shift, IMAPTM

01-125

NDR2 (STK38L)

STK

Mobility Shift, IMAPTM

01-126

NEK1

STK

Mobility Shift, IMAPTM

05-123

NEK2

STK

Mobility Shift, IMAPTM

05-226

NEK4

STK

Mobility Shift, IMAPTM

05-128

NEK6

STK

Mobility Shift, IMAPTM

05-130

NEK7

STK

Mobility Shift, IMAPTM

05-131

NEK9

STK

Mobility Shift, IMAPTM

05-133

NPM1-ALK

TK

Mobility Shift, IMAPTM

08-517

NuaK1

STK

Mobility Shift, IMAPTM

02-126

NuaK2

STK

Mobility Shift, IMAPTM

02-127

p38α (MAPK14)

STK

Mobility Shift, IMAPTM

04-152

p38β (MAPK11)

STK

Mobility Shift, IMAPTM

04-153

p38γ (MAPK12)

STK

Mobility Shift, IMAPTM

04-155

p38δ (MAPK13)

STK

Mobility Shift, IMAPTM

04-154

p70S6K (RPS6KB1)

STK

Mobility Shift, IMAPTM

01-154

p70S6Kβ (RPS6KB2)

STK

Mobility Shift, IMAPTM

01-155

PAK1

STK

Mobility Shift, IMAPTM

07-123

PAK2

STK

Mobility Shift, IMAPTM

07-124

PAK3

STK

Mobility Shift, IMAPTM

07-125

PAK4

STK

Mobility Shift, IMAPTM

07-126

PAK5 (PAK7)

STK

Mobility Shift, IMAPTM

07-127

PAK6

STK

Mobility Shift, IMAPTM

07-128

PASK

STK

Mobility Shift, IMAPTM

02-128

PBK

STK

Mobility Shift, IMAPTM

05-168

PDGFRα (PDGFRA)

TK

Mobility Shift, IMAPTM

08-157

PDGFRα (PDGFRA) [T674I]

TK

Mobility Shift, IMAPTM

08-503

PDGFRα (PDGFRA) [V561D]

TK

Mobility Shift, IMAPTM

08-507

PDGFRβ (PDGFRB)

TK

Mobility Shift, IMAPTM

08-158

PDHK2 (PDK2)

STK

Mobility Shift, IMAPTM

10-140

PDHK4 (PDK4)

STK

Mobility Shift, IMAPTM

10-125

PDK1 (PDPK1)

STK

Mobility Shift, IMAPTM

01-132

PEK (EIF2AK3)

STK

Mobility Shift, IMAPTM

05-155

PGK (PRKG1)

STK

Mobility Shift, IMAPTM

01-142

PHKG1

STK

Mobility Shift, IMAPTM

02-152

PHKG2

STK

Mobility Shift, IMAPTM

02-153

PIK3CA/PIK3R1

Lipid

Mobility Shift, IMAPTM

11-101

PIM1

STK

Mobility Shift, IMAPTM

02-054

PIM2

STK

Mobility Shift, IMAPTM

02-155

PIM3

STK

Mobility Shift, IMAPTM

02-156

PKACα (PRKACA)

STK

Mobility Shift, IMAPTM

01-127

PKACβ (PRKACB)

STK

Mobility Shift, IMAPTM

01-128

PKACγ (PRKACG)

STK

Mobility Shift, IMAPTM

01-129

PKCα (PRKCA)

STK

Mobility Shift, IMAPTM

01-133

PKCβ1 (PRKCB1)

STK

Mobility Shift, IMAPTM

01-134

PKCβ2 (PRKCB2)

STK

Mobility Shift, IMAPTM

01-165

PKCγ (PRKCG)

STK

Mobility Shift, IMAPTM

01-137

PKCδ (PRKCD)

STK

Mobility Shift, IMAPTM

01-135

PKCε (PRKCE)

STK

Mobility Shift, IMAPTM

01-136

PKCζ (PRKCZ)

STK

Mobility Shift, IMAPTM

01-141

PKCη (PRKCH)

STK

Mobility Shift, IMAPTM

01-138

PKCθ (PRKCQ)

STK

Mobility Shift, IMAPTM

01-140

PKCι (PRKCI)

STK

Mobility Shift, IMAPTM

01-139

PKD1 (PRKD1)

STK

Mobility Shift, IMAPTM

02-157

PKD2 (PRKD2)

STK

Mobility Shift, IMAPTM

02-158

PKD3 (PRKD3)

STK

Mobility Shift, IMAPTM

02-159

PKN1

STK

Mobility Shift, IMAPTM

01-144

PKR (EIF2AK2)

STK

Mobility Shift, IMAPTM

05-156

PLK1

STK

Mobility Shift, IMAPTM

05-157

PLK2

STK

Mobility Shift, IMAPTM

05-158

PLK3

STK

Mobility Shift, IMAPTM

05-159

PRKX

STK

Mobility Shift, IMAPTM

01-130

PYK2 (PTK2B)

TK

Mobility Shift, IMAPTM

08-138

QIK (SNF1LK2)

STK

Mobility Shift, IMAPTM

02-129

RAF1

STK

ELISA

09-125

RAF1

STK

Mobility Shift, IMAPTM

09-125

RET

TK

Mobility Shift, IMAPTM

08-159

RET[G691S]

TK

Mobility Shift, IMAPTM

08-522

RET[M918T]

TK

Mobility Shift, IMAPTM

08-508

RET[S891A]

TK

Mobility Shift, IMAPTM

08-523

RET[Y791F]

TK

Mobility Shift, IMAPTM

08-521

ROCK1

STK

Mobility Shift, IMAPTM

01-109

ROCK2

STK

Mobility Shift, IMAPTM

01-110

RON (MST1R)

TK

Mobility Shift, IMAPTM

08-152

ROS (ROS1)

TK

Mobility Shift, IMAPTM

08-163

RSK1 (RPS6KA1)

STK

Mobility Shift, IMAPTM

01-149

RSK2 (RPS6KA3)

STK

Mobility Shift, IMAPTM

01-150

RSK3 (RPS6KA2)

STK

Mobility Shift, IMAPTM

01-151

RSK4 (RPS6KA6)

STK

Mobility Shift, IMAPTM

01-152

SGK

STK

Mobility Shift, IMAPTM

01-158

SGK2

STK

Mobility Shift, IMAPTM

01-159

SGK3 (SGKL)

STK

Mobility Shift, IMAPTM

01-160

SIK (SNF1LK)

STK

Mobility Shift, IMAPTM

02-131

skMLCK (MYLK2)

STK

Mobility Shift, IMAPTM

02-150

SLK

STK

Mobility Shift, IMAPTM

07-129

SPHK1

Lipid

Mobility Shift, IMAPTM

11-105

SPHK2

Lipid

Mobility Shift, IMAPTM

11-106

SRC

TK

Mobility Shift, IMAPTM

08-173

SRM (SRMS)

TK

Mobility Shift, IMAPTM

08-174

SRPK1

STK

Mobility Shift, IMAPTM

04-160

SRPK2

STK

Mobility Shift, IMAPTM

04-161

SYK

TK

Mobility Shift, IMAPTM

08-176

TAK1-TAB1 (MAP3K7)

STK

Mobility Shift, IMAPTM

09-019

TAK1-TAB1(MAP3K7)

STK

ELISA

09-019

TAOK2

STK

Mobility Shift, IMAPTM

07-133

TBK1

STK

Mobility Shift, IMAPTM

05-115

TEC

TK

Mobility Shift, IMAPTM

08-182

TIE2 (TEK)

TK

Mobility Shift, IMAPTM

08-185

TNIK

STK

Mobility Shift, IMAPTM

07-138

TNK1

TK

Mobility Shift, IMAPTM

08-104

TRKA (NTRK1)

TK

Mobility Shift, IMAPTM

08-186

TRKB (NTRK2)

TK

Mobility Shift, IMAPTM

08-187

TRKC (NTRK3)

TK

Mobility Shift, IMAPTM

08-197

TSSK1

STK

Mobility Shift, IMAPTM

02-364

TSSK2

STK

Mobility Shift, IMAPTM

02-165

TSSK3

STK

Mobility Shift, IMAPTM

02-166

TTK

STK

ELISA

05-169

TXK

TK

Mobility Shift, IMAPTM

08-183

TYK2

TK

Mobility Shift, IMAPTM

08-147

TYRO3

TK

Mobility Shift, IMAPTM

08-109

WEE1

STK

ELISA

05-177

WNK1

STK

Mobility Shift, IMAPTM

05-179

WNK2

STK

Mobility Shift, IMAPTM

05-180

WNK3

STK

Mobility Shift, IMAPTM

05-181

YES (YES1)

TK

Mobility Shift, IMAPTM

08-175

YES (YES1) [T348I]

TK

Mobility Shift, IMAPTM

08-533